This post contains affiliate links that will earn me a small payment if clicked. This is a Sponsored Post paid and brought to you by Gazelle.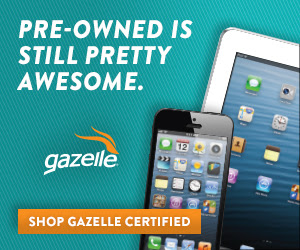 I've never broken a screen on my cell phone before (thank goodness!), but I certainly know plenty of people who have! In fact, just the other week, my boyfriend was hiking with a friend and broke his phone screen. He had it in his back pocket when we sat on a particularly sharp rock, CRACK! But like many others, he's continuing to use it with the broken screen…
But that's where Gazelle comes in! Stop participating in unprotected text, don't risk your fingers! Join Gazelle in their Stop the Spread of #unprotectedtext campaign*. To celebrate, Gazelle is giving you the opportunity to bare your soul on their Facebook page and win an iPhone or iPad (without a cracked screen!)
Win a iPhone or iPad!
In 50 words or less, share your story about how you broke your phone and why you continued to use it*. Be sure to use hashtag #unprotectedtext and @Gazelle in your social post.
When you post, you'll be automatically entered to win a Gazelle Certified pre-owned iPhone or iPad.
Want to save your screen before it breaks?
Check out this review I wrote for intelliGLASS HD Glass Screen Protector. I'm also giving one away until 6/18/2015, be sure to enter to win before then!